Pricing your services is hard and getting it wrong can greatly impact your ability to build a thriving college consulting business. That's why we did some research to bring you the most recommended books, relevant for IECs, on pricing strategy and practice. Whether you are just getting started, or a veteran IEC who feels like they never got the pricing thing right, these resources will give you the tools necessary to evaluate your pricing model and deliver your services with confidence.
The Strategy and Tactics of Pricing: A Guide to Growing More Profitable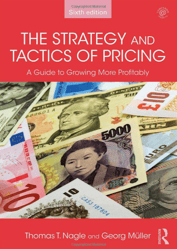 ABOUT THE BOOK: For almost three decades, The Strategy and Tactics of Pricing has served as the leading authority on strategic pricing. If you take an undergraduate or graduate level course focused on pricing economics and strategy, this is likely the textbook. And it is just that, a textbook. Which means it is comprehensive and instructional. The Strategy and Tactics of Pricing explains how to manage markets strategically and grow more profitably. Rather than calculating prices to cover costs or achieve sales goals, readers will learn to make strategic pricing decisions that proactively manage customer perceptions of value, motivate purchasing decisions, and shift demand curves.
WHAT'S IN IT FOR IECS: The book is comprehensive, and the theories and concepts are laid out well, with in-depth case studies to help illustrate points, so you won't likely need another pricing book to reference. It is important to note that it is mostly targeted at medium and large businesses, however, there are still many takeaways for small business owners. Chapter outlines and summaries will also help you navigate, pick, and choose what concepts are most useful for you to digest.
Value-Based Pricing: Drive Sales and Boost Your Bottom Line by Creating, Communicating and Capturing Customer Value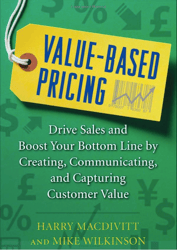 ABOUT THE BOOK: This book thoroughly explains the concept of value-based pricing, the idea that prices should be set on the perceived value of a service for customers and not on the cost of delivering those services or on the competition. Value-Based Pricing will provide you with the ideas and tools to better understand your customer, how to successfully differentiate yourself, and how to both quantify the differences between you and your competitors and communicate these differences to customers.
WHAT'S IN IT FOR IECS: You will get very little theory with this book, but rather lots of hands-on, concrete suggestions for how to start setting a winning pricing strategy. This makes the book great for IECs who are looking to launch their business and need strategies to apply immediately. With growing competition and differentiation within the field of independent college consulting, it is now more than ever, essential for you to examine the reality of the value you offer potential customers―and this step-by-step program shows you how. Finally, tips for communicating this value to customers is especially useful for IECs who are intimidated or inexperienced selling.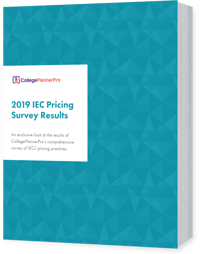 Download our Free IEC Pricing eBook
We surveyed over 250 IECs to collect detailed information on their historic price strategy and practices. Data includes how much IECs charge clients, how they package their services for families, how they collect payment, and more. Download our eBook for free access to this exclusive content.
Pricing with Confidence: 10 Ways to Stop Leaving Money on the Table

ABOUT THE BOOK: Pricing with Confidence gives you a proven plan for increasing your revenue without sacrificing profit margins. If you can't price your services well, you will ultimately destroy the values, revenues, and profits of your company. With ten simple rules, this book shows you how to deliver both healthy profit margins and robust revenue growth while kicking the dreaded discounting habit.
WHAT'S IN IT FOR IECS: This practical, hands-on book provides those without a management degree or business training with easy to follow and actionable steps for thinking about their pricing. This book will give you the confidence to set your prices and communicate your value to customers. An easy read, this book will make a significant impact on your mindset around your pricing.
The Art of Pricing: How to Find the Hidden Profits to Grow Your Business
ABOUT THE BOOK: The Art of Pricing is a practical guide for solving one of the most important dilemmas in business: how to use price to uncover hidden profits and find new opportunities for growth. Readers have exclaimed that this book is an absolute must-read for anyone seeking to learn how to price their goods or services in a manner that is both competitive and profitable. Each chapter is filled with useful information that you can use in your pricing strategy right away. And this is not a technical book. It is for people who have been continuously struggling with setting the right price to attract more customers and to earn more revenue.
WHAT'S IN IT FOR IECS: Finding the "right" price for your consulting services can be a mountain of a task, but this book will help you tackle it. Along with providing easy-to-use strategies, this book gives a range of examples which help you find many options for your customers and activate any dormant customer base you have.
Pricing Survey for IECs
We are conducting a comprehensive and detailed pricing survey so that we can bring you even more information and data on IEC pricing strategy. Please help us by taking just 5 minutes to complete our survey.