CollegePlannerPro was fortunate enough to join and sponsor the IECA Professional Members retreat last month in Phoenix, AZ. Participants spent the retreat with their business hats on, learning from small business marketing and branding professionals as well as from one another during group conversations. All members left refreshed and equipped with a wealth of new business strategies to take back and implement in their practices, including the CollegePlannerPro team!
Some of the best conversations centered around the "One Great Idea" topics that members submitted and then shared within the group. I have highlighted some of my favorite takeaways from the conversations along with key tips for how to utilize CollegePlannerPro's features to implement these strategies in your practice.
1. The Power of Customization
A few consultants shared examples of adding a touch of customization during initial meetings with families. By tailoring materials, package offerings, and/or the conversation topics, a consultant can easily make the family feel valued during the sales process.
CollegePlannerPro Tool Tip: CollegePlannerPro's college profile reports allow members to quickly create customized, branded reports for their students. This easy-to-create deliverable can enhance initial meetings with families, showcasing important college data points.
.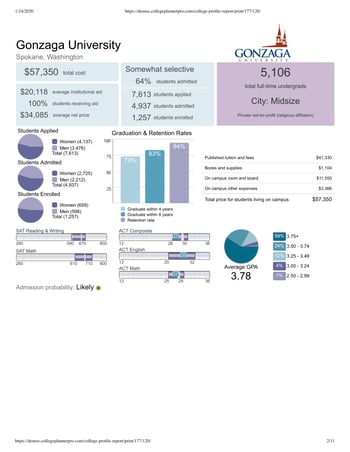 If you are looking for more tips to nail the first meeting with a prospective client, check out our recorded webinars: Navigating the IEC Consolation and Using CollegePlannerPro to Wow Families During an Initial Consultation by showing off an Impressive Sample Student Profile.
2. Use a Calendar Tool
This tip was a hot one! About 50% of participants said that they rely on a calendar scheduling tool to streamline the often cumbersome task of scheduling meetings with students, parents, and prospective clients. If you are looking for ways to save time, easily manage your availability, and eliminate the back and forth scheduling emails, then using a scheduling tool is definitely for you!
CollegePlannerPro Tool Tip: CollegePlannerPro members, did you know that we have a scheduling tool that is built right into the CollegePlannerPro platform? This tool makes scheduling meetings with students and prospective clients a manageable process. Save time and facilitate all your scheduling needs using the CollegePlannerPro Scheduling Module.
3. Family Communication
This conversation topic evoked a great conversation between attendees who shared a variety of opinions on their expectations for student and family communication. One tip shared was to include a small question in the body of an important email so that the student was held accountable for reading and responding to the email. Other consultants shared that they have somewhat given up on reaching students through email and instead rely heavily on text messages. With the continued evolution of technology among the younger generations, methods and guidelines for communication will no doubt remain a popular topic for discussion.
CollegePlannerPro Tool Tips:
Broadcast Message Reporting: Are you sending important emails to students and parents and want to ensure that they are reading the communication? No need to sneak in questions, simply use the CollegePlannerPro Broadcast Message feature to send emails and track read receipts.

Forget Email, Text Your Students: Through CollegePlannerPro's Conversation Module, counselors can send messages to their students that will be delivered as text messages. The best part? Now you don't have to share your personal cell phone number with students and can more easily manage communication hours by customizing your own notification preferences. A log of these messages is always kept on the student profiles, ensuring no important communication is lost.
4. Pricing Your Services
I was happy to see the CollegePlannerPro's 2019 Pricing Survey Results eBook helped to inform the discussion for the Mini Learning Lab Session: Hourly vs. Package Billing. This topic continues to be of great interest to IECs in all stages of their business. We look forward to keeping a pulse on the trends in the industry moving forward.
CollegePlannerPro Tool Tip: Start accepting credit card payments. In our survey of over 250 independent consultants, we found that only 45% accepted credit card payments from clients. If you are looking to increase your cash flow, create added convenience for your clients, and stand out among the competition, accepting credit card payments is crucial for your business. That is why we've made accepting credit card payments easy with CollegePlannerPro.
We've partnered with ProPay to allow our members to seamlessly invoice clients and accept credit card payments. Get an inside look at this feature here: Accept Credit Card Payments with CollegePlannerPro.
Further Training for Members
Are you a current member of CollegePlannerPro who would like to learn more about these featured tool tips or other modules that you may be underutilizing? Schedule a training with our customer success representative to help you maximize all the benefits CollegePlannerPro has to offer.
Request a Demo
Not a member but interested in learning more? Schedule a one-on-one demo to see how CollegePlannerPro can help you get organized, be more efficient, and better deliver your services to students.