Email marketing can help independent educational consultants foster better customer relationships and build a stronger brand, both of which will contribute to a growing business.
In this blog post, we outline the four critical steps to building a successful email strategy.
1. Start Building Your Contact List
Before you start sending out emails, you need to have contacts to send those emails to.

In order to do that, you'll want to collect and organize contact information for the individuals you encounter who may be in need of your services. Gather contact information from presentations or events that you host, and of course, keep record of all prospective inquires.
Another idea is to create a signup form and place it on your website, social media, and anywhere else you see fit. Be sure to include text that explains what users are signing up for when they give you their email.
CollegePlannerPro Members: As soon as a prospective client is on your radar, you should add the prospect as a contact​ in CollegePlannerPro. Keep this parent contact's status up to date so that you can keep tabs on your active pipeline.
2. Segment Your Lists Based on the Emails You Want to Send
The best way to write targeted content is to first segment your email contacts into smaller lists with similar interests.

If you send a mass email to all of your contacts, it's nearly impossible to craft a message that is relevant for everyone. But if you're able to find contacts with similar needs or interests and group them together, this challenge goes away.

There are a number of ways you can segment contacts depending on the data you have, including; demographics, contact status, college choice, etc.

Once you break out your contacts into small groups like this, it becomes much easier to craft a message that resonates with your audience and drives more engagement.
CollegePlannerPro Members: Use the Broadcast message recipient lists to segment your contacts based on identifying information you've included in their profile. These lists can be created at any time, meaning you don't even have to have a message you'd like to send out. You can get started building lists right away and make changes to your recipient lists at any time.
3. Create and Design Your Emails
Delivering relevant, thoughtful, and helpful content to both prospective and current families will help to keep you and your services top of mind. You will also be demonstrating the value you are able to add to families during their college admissions journey. Here are some ideas for the content you can create and deliver:​
1. Start a newsletter: Once a month, create a roundup of helpful information for families.​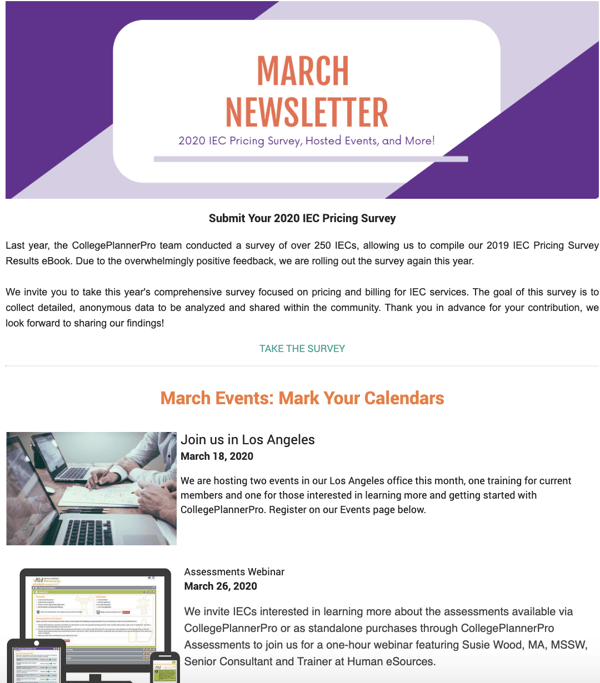 2. Current event news articles: Keep an eye on industry news and distribute important information to your recipient lists. Provide your own insights for added value.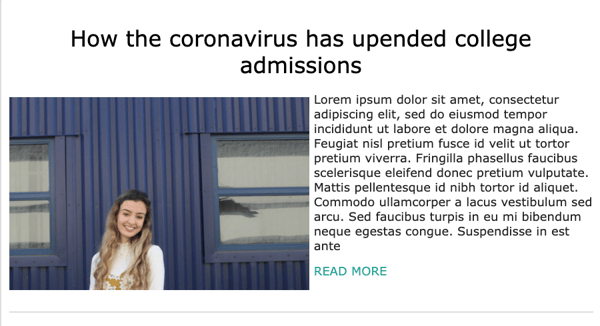 3. Your blog posts or tip articles: Create your own written content that you'd like to share with families. Answer frequently asked questions, recap findings from conferences or college tours, or compose tips for specific groups of students.
4. Video content: Use your phone or laptop to create video content for families. Provide an inside look at college campuses, interviews with admission reps, admission tip videos, etc.
5. Promote an event or webinar: Look for opportunities to host your own informational event and promote it to the families on your marketing lists.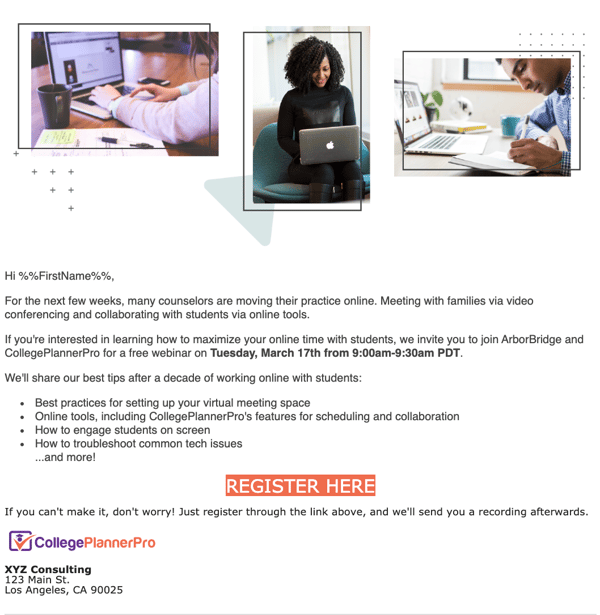 If you are looking for help creating images and templates for your emails, we recommend Canva.
CollegePlannerPro's Upgraded

Broadcast Message Editor
CollegePlannerPro's Broadcast Email feature, the tool that allows you to mass email custom recipient lists, is now sleeker, with more intuitive formatting icons. The editor now lets you add images directly from your computer, easily add rich text formatting, and even kick your emails up with fun emojis 👍. We created all the example emails above using the new editor.
4. Press Send and Analyze the Performance
If you think you're done once you hit 'send', think again!

Email marketing provides a unique opportunity to learn from your customers. You should always be analyzing the performance of your emails regarding your email marketing KPIs. If you notice certain types of emails perform poorly with your audience, look for new ways to improve on the next email.
CollegePlannerPro Members: Track the open rate performance of each email on the Broadcast's Main tab. Review the date and time each contact viewed the email for more granular tracking statistics.
And that's it! After implementing these strategies and staying consistent with your emails, you'll be well on your way towards growing your contact list and gaining more clients.