This quarter, we've made some key updates to the software for students and counselors alike. Let's take a look!
Updates to CollegePlannerPro
Application Deadlines
In past seasons, application deadlines have primarily been sourced via Peterson's College Data and made available to import every August. To get vital information into your hands faster, this season the CollegePlannerPro team researched and collected over 2000 deadlines across 650 of the most popular schools on the platform.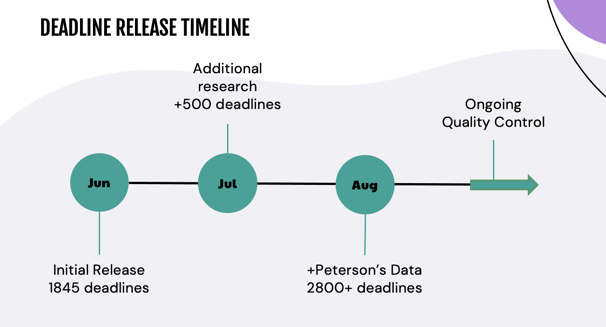 The deadlines were released in batches, starting in the early summer, leading up to our latest release which includes the Peterson's data set.
Profile Notes - Drafts are now Auto-Saved!
Drafts of Student and Parent/Contact profile notes are now automatically saved. If you accidentally navigate away from the note entry window before saving it, a draft of your message is stored while you're logged in, for your convenience.
College Search Beta - Select All
Thanks to member feedback, we've enhanced the list-building experience in the College Search feature by incorporating a "Select All" function on the search results screen.
Other Updates
Broadcasts - selectively adjust logo sizes in email footers for better email aesthetics
Student Profile Details - expanded birth year options
Scheduling - automatically scroll down the page once a day/date is selected to more easily view available time
Updates to the Student Platform
Fully mobile-responsive scheduling
We've made scheduling even easier with a fully mobile-responsive experience. From the new version, students may click on the "Schedule with consultant" button from their dashboard or calendar pages to launch the available appointment types. The feature works on a laptop/desktop, tablet, or mobile device, making scheduling easy for students when they're at home or on the go.
Mobile friendly College Profile reports
College profile reports have also gotten an upgrade and are now accessible on a phone, tablet, or computer - giving your students the vital information they need, right at their fingertips.
Other Updates
Application deadlines on the Colleges tab are now clickable
Broadcast emails display attachments on Emails tab
"View removed colleges" icon updated for improved clarity
Calendar Interface Updates - decreased event title fonts, added start times as prefixes on events
Added descriptor text to "Add note" and "Add test" buttons for improved clarity