One of my favorite gifts my mom has ever given me is a hammer. Yep, I know. Crazy, right? I think the reason I love it so much is that it is from her, but also I love the creativity behind its design. For starters, it's shiny gold with a floral print and very light in my hand. Second, it was only $6.99 which makes me love it even more. Finally, it is multi-functional with its many sized little screwdrivers hidden within its handle. I love it.
Tools are a key component to building. We as IECs are building many things. We are helping students build essays, college lists, transcripts and, ultimately, we are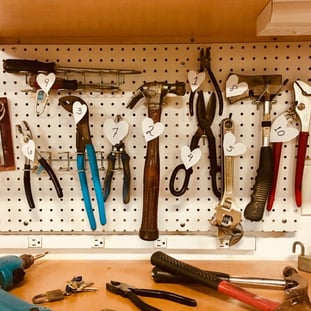 helping them build their futures. We help them build confidence in themselves each step of the way. As IECs, we are also building our businesses which allows us to be most successful in helping our clients. Building great things takes the right tools.
Having the right tool is critical to my success in many areas of life. For example, when I'm hanging pictures, painting a new canvas, gardening or teaching my goldendoodle a new trick, tools are all critical to my being able to accomplish my goals. Skilled tools were very valuable in the important role of raising my children. Often these tools came to me from mothers who had successfully raised their own children and were willing to share their wisdom with me so I didn't have to reinvent the wheel.
In many ways my company is like a fifth child to me. We've grown up together. I've been an IEC for about 15 years. I was 37 then, I am 52 now. I was in the trenches with four kids at home juggling home life while branching out into my college coaching business at the same time. The days were sometimes long, but looking back, the years were short. There isn't much I'd give this side of Heaven to have those same little kids back for just one afternoon. For now, I get to enjoy them as young adults who are branching out into their own careers and finishing medical school, college and high school.
One of my favorite authors summed up those things we learn early on in life. Robert Fulghum said it well in All I Really Need to Know, I Learned in Kindergarten. For me, many of my favorite tools were acquired early in my business, while many others have come in recent years. I realize that many of you have fabulous shiny tools in your shed as well, and I hope you'll take the time to tell us about those in the comments. I also recognize that the tools that are easiest for me might not be the best fit for you. I'm not here to argue over whose tools are better but instead help us learn from one another in an effort to make us all better. In fact, that is the hallmark trait I most often see in IECs. They cheer each other on and love seeing each other succeed. I'm sharing these secrets of the trade with you today in hopes you'll find something that will make you more successful as an IEC, something that will make you more confident and allow you more time to do what you do best.
Some people like to keep the "good stuff" to themselves. I disagree with that motto. The more people I can help or inspire, the happier I am. As a group of IECs, I think we can encourage one another, sharpen one another and make our profession better. The tools I'm sharing today are meant to encourage you and help you be great! The better you / we are, the more students we can help. That is our common bond and what motivates us to keep building.
I want to mention that though I am fond of them all, I have not been asked or paid to promote any of these products, applications or tools. There are no affiliate links and I have no benefit or connection to any of these providers. The one exception to this is the tool that I personally built for myself out of frustration when I couldn't find a tool to do the job in the fashion that I needed it to function. I'll share more about this later. Every tool or resource that I've listed is something that I currently use to grow and support my business.
I'm the queen of trying to keep costs down when it comes to my business. Therefore, I try to be cost conscious when choosing a tool to use for my business. Some of the tools I have are inexpensive. Some were cheaper when I started using them but may have gone up in costs. Others are priced in the medium range, but I can assure you that I'm getting an ROI on them or I wouldn't continue to use them. Only a few are what I would consider "costly" and without those, I couldn't be productive. I'm sharing my favorite tools with you below in an effort to introduce you to some ideas and helpful business tools. I hope that you'll find them handy and useful. If you decide you want to add them to your toolbox, great. If not, please share the tools you have so we can learn from you.
I hope you'll find these helpful if you are a seasoned IEC or just starting your business.
Tools for IECs
CollegePlannerPro - No introduction needed. I think we can all agree that this is the long pole in the tent, one of two tools that I simply cannot do without.
MacBook Pro - This is without a doubt the most costly tool I have. I realize many of you are not "Apple People" and I can respect that. Remember, I'm just showing off my tools and I'm eager to hear about yours as well.
Apple iPad - You might be wondering why I would use both a laptop computer and an iPad. Great question. This came into play many years ago when students would sometimes show up without a device to work on. It is easier for me to be able to hand them a device so we can get straight to work. They are able to log into their CollegePlannerPro account and we are off and running. In addition, I'm able to upload resources that are applicable to each of them.
Zoom - Pre Covid, I wasn't a zoomer. In fact, the word zoom reminded me of a show I grew up with on PBS. (this is absolutely dating me but for those of you who know what zoom was, it will be a blast from your past! ) However, today, Zoom is critical to the success of my team as we have the chance to meet with others all over the world.
17 Hats - This one may be new to you. When I first started using 17 Hats many years ago, it was very affordable and offered many features that I needed. For example, my contracts are in 17 Hats and clients are able to sign them digitally. In addition, my invoices are sent through 17 Hats. It has many excellent features, and I enjoy it. In full transparency, some people on my team don't find it user-friendly but I find it extremely helpful and easy to use.
FloDesk - There are many options available for your email marketing needs. FloDesk is just the one that works best for me. I researched many options and used a few others before deciding to stick with this one. They have beautiful templates.
Weebly - I enjoy having my students build online portfolios when needed. Weebly is a very inexpensive and easy option for my students to use for this. There is a free version that works great. I built my very first website 15 years ago on Weebly. It was a great option for my business site until I needed a site with more advanced features.
Squarespace - I must admit, I often wonder if WordPress would have been a more efficient option for my website as WordPress allows for compatibility with many plug-in options that Squarespace doesn't. However, Squarespace has a lot of great features and beautiful templates to work with.
Emojicom - Emojicom is a new addition to my site. I learned a long time ago, in order to be successful, I needed genuine honest feedback from the students and parents I worked with. Emojicom can quickly be added to your website and allows visitors to your website to give you honest feedback with the quick press of an emoji. They can leave a comment or just give you an emoji that shows you how they are feeling about your site or content.
Issuu - Issuu is great for building digital books. I use it for many things I create. For example, each year I put out a Summer Opportunities guide. Presenting it in this format creates a very professional look and one that my clients enjoy.
Loom - Loom is great for creating simple videos and screen recordings. This is an excellent tool for a great price. My entire team uses it, and we use it with our students as well.
Google Suite - As a business owner, Google Suite is great for many things. It allows us to have custom email addresses and keeps track of our email. I am a fan of Google Docs, Google Sheets etc… I love that I can easily share Google Docs with students in CollegePlannerPro simply by providing a link in their files.
Teachable - I utilize Teachable for many of my videos for students, parents and universities. No need to reinvent the wheel here as Teachable has built a great platform and my clients enjoy accessing my videos / courses there.
Toonly - Toonly is a great way to create simple marketing videos or explanation videos when needed.
Doodly - Doodle is similar to Toonly. Both of them take a little practice to make them work, but they help create fun visuals if needed.
Canva - Canva is a staple to our business. This is where you can let your creative juices flow. I love getting lost in Canva and creating visuals that everyone will enjoy. This is critical to the success of your social media and other marketing efforts.
Do your laundry or you'll die alone - This is the gift I send to all of my seniors when they graduate. They love it. It always makes them laugh and brings a smile to their face.
Imagine Scholarships - Last but not least is my very favorite tool in my toolbox. Imagine Scholarships. I built Imagine Scholarships in an effort to help students, IECs, parents and counselors in their efforts to find scholarships. I'm happy to tell you that CollegePlannerPro and I have partnered and soon you'll be able to offer this to each of your students at an exceptional price. Imagine Scholarships has over $9 Billion dollars in outside scholarships for your students. Our scholarships are updated daily, and we make sure to offer quality scholarships that will result in real dollars in the pockets of students. We have an excellent filtering system for students to find scholarships specifically for them. Imagine Scholarships also offers internships and features a library of videos to help students with many topics. We have seen incredible success with our students and their ability to earn / win scholarships. Our system is being used by several groups and large D1 universities as well. I know you'll find it helpful. It is the one thing that my clients love the most. In fact, I get emails weekly thanking me for helping students find money for college. I couldn't find a solution for scholarships that was easy to use, didn't sell my students' information or have annoying advertising. After many years of research, I built the database myself, and I couldn't be more proud of it!
Many people have asked, "Why are you willing to share your secrets with others?" The answer is simple. We aren't in a competition. When you win, the students win, the parents win and our profession wins. We are in this to BUILD! I can't wait to see your favorite tools! Please share them with us in the comments.