At the high school level, STEM goes far beyond Advanced Placement classes, and the latest techie devices. Teachers, counselors, and IECs have numerous tools at their disposal to inspire teens to explore coding, game design, robotics, engineering, and more. The question is: where to start?
In this guide, we'll walk through seven ways to get high school students excited about the many applications of STEM in a way that's authentic to their interests and future goals. Whether they're just dipping their toe in the water or set on landing a career in software engineering, data science, or one of the other top STEM careers, there's something for everyone in the wide world of STEM!
High school is the perfect time to build or expand STEM skills. Studies show that majoring in STEM in college can lead to the highest median salaries. Plus, the stats don't lie: recent trends indicate job growth, industry expansion, and exciting opportunities throughout STEM fields.
And there's even more good news here. Popular hobbies like gaming and YouTube streaming can, with the right guidance and training, translate easily to in-demand 21st-century skills. There are numerous tech-centered pathways that can lead to amazing future opportunities for teens.
So, let's take a closer look at what some of those pathways entail. As always, we encourage teens' mentors and teachers to keep their unique learning profiles and interests in mind as they weigh options. That way, when encouraging high school students, they can find the best fit.
Here are a few avenues that can start students on the path to cutting-edge projects, future college majors, careers, and more in STEM!
1. Sign up for a STEM Elective
True: it's a broad umbrella, but nevertheless it's worth exploring teens' choices for elective courses in their high school course catalog. From robotics and programming to graphic design and animation, many high schools offer enrichment courses that allow teens to explore specific STEM fields.
STEM electives are a great option because they often explore subject matter that's outside the standard high school curriculum. No time in art class for graphic design? See if a specific elective is offered. Is your student interested in conservation and combating climate change, but that topic gets skipped over in science class? See if there's an elective that focuses on environmental science.
Not only can a STEM elective help teens discover the particular field they're most excited about, but it can also serve as a more low-pressure means of trying something new.
You never know where this could lead. Maybe that robotics course is what sparks their passion for engineering and AI. Encourage your teen to give one a try: it could just help them find an area of STEM that they're really passionate about!
2. Explore Hour of Code and other Coding Resources
It's no secret that many public schools don't offer computer science courses, so it might be time to think outside the box! Thanks to Code.org, trying out Hour of Code activities and events, yes- even virtually, has never been easier.
Invite your child's closest friends, gather the neighborhood kids over Zoom, and get programming! Code.org provides all the materials and tutorials you need to get started right on their website. The best part? It's fun for everyone involved.
3. Pursue STEM Extracurriculars like Robotics Clubs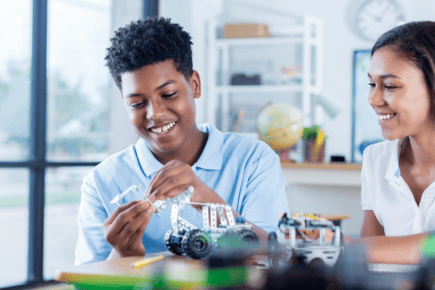 Often, STEM can seem intimidating at first because it seems too theoretical, and not hands-on enough to be approachable to beginners. This could not be further from the truth, and extracurricular activities like robotics clubs perfectly illustrate that.
Like sports teams, robotics teams provide ample opportunities for competition, hard work, and learning to work together towards a common goal. FIRST Robotics is one of many national organizations that encourage teens to bring their STEM skills into a thrilling arena. Read more about joining or starting a robotics team here!
Robotics is an integral part of cutting-edge careers like aerospace engineering, computer science, and hardware design. If your student loves to tinker and would enjoy learning about STEM in a concrete, hands-on way, their new robotics project could be just the thing to help them envision a future in one o
f these professions.
4. Enter STEM Competitions
On the local, regional, and national scale, STEM competitions provide techie enthusiasts with the chance to lead, practice teamwork, and innovate. If your student is ready to jump in and see what's out there, check out our comprehensive list of 2022 STEM competitions.
5. Level up with Esports
Calling all gamers! It may surprise some to learn that growing numbers of esports college scholarship opportunities, millions of dollars of scholarships, to be specific, are open to skilled esports players. Not only are there 175 colleges (and counting) that have varsity esports programs, something that was virtually unheard of just a few years ago, teens can actually earn a degree in esports.
Colleges around the country are expanding their offerings in part to keep up with the skyrocketing popularity of esports and the growth of the gaming industry, and it's one of many avenues to pursue higher education in fields like game design and programming along with numerous tech careers. From game testers to QA engineers and graphic artists, esports is a launchpad for some of the most dynamic careers in the booming $35 billion-dollar gaming industry.
6. Join the National STEM Honors Society
Yes, there's an honors society just for STEM! If you're working with a student who already shines in math, science, tech, or engineering, encourage them to expand on their academic achievements by working with like-minded students.
The National STEM Honors Society engages students with year-round enrichment, competitions, and ample opportunities to become STEM leaders within their communities. Joining organizations like this is a great way to show future colleges and employers that teens can take their skills and knowledge beyond the classroom
7. Explore STEM Entrepreneurship and Volunteer Applications
Every child has their own reasons for being interested - or disinterested- in tech. For some, the idea of coding just for the sake of coding, or engineering robots just for fun, isn't enough to spark a lasting interest.
It's important to help teens find the why behind what they're doing. Engineering for engineering's sake might not be enough to inspire some students, but what about engineering life-saving tech or clean energy solutions?
Similarly, coding definitely takes practice, so it's important to think about what will motivate students to persevere through challenges. That motivation could be starting a business or creating a product that teens think could change the world (or at least look really cool and appeal to a wide audience of customers!).
If this sounds like your student, consider honing in on the countless ways tech is being used to create powerful change and tackle real-world issues and launch entrepreneurial ventures. As we all know, teens have opinions (lots of 'em) and trust us when they say that every young person would like to change the world in some way for the better.
Unlock a world of possibilities for teens
As teens look ahead to life after high school, it can be as overwhelming as it is exciting to think about what's next. But with the right mentorship and learning opportunities, teens can take ownership of their futures and find the perfect path.
To help accomplish exactly this, check out iD Tech's programs specifically designed for teens and the latest college-prep pro tips and advice on our blog! CollegePlannerPro is thrilled to offer IECs an exclusive discount for your families who sign up for iD Tech courses. Use code CPP200 for $200 off all courses and private lessons.
Virginia Trench, Content Specialist
Virginia started with iD Tech at the University of Denver in 2015 and has loved every minute since then! A former teacher by trade, she has a master's in education and loves working to embolden the next generation through STEM. Outside the office, you can usually find her reading a good book, struggling on a yoga mat, or exploring the Rocky Mountains.
Chelsea Harder, Associate Vice President of University Partnerships
Chelsea works closely with universities and corporate partners to develop dynamic, engaging pre-college programs for teens. Chelsea has worked as an independent college counselor for over seven years and understands the importance of extracurricular courses and activities to help students identify their passions and potential college majors. In her role, Chelsea leverages her background working at UCLA and IEC lens to build partnerships and courses that are relevant to teens' interests and useful as they think about their future in college and beyond!